BAL GOPAL POOJA
Apart from the poojas performed for navagraha, Vedas mention many other powerful poojas which are performed in order to get blessings from a particular God or a pair of God and Goddess like Shiv Parvati and Lakshmi Narayan. A large number of such poojas are performed for different gods and goddesses depending upon what kind of result is required by the native and sometimes some natives get some of these poojas performed just in order to connect more closely and strongly to their Isht Devta. Some pandits believe that most of such poojas should be performed at religious places like Trayambakeshwar temple of Lord Shiva in Nasik, Ujjain, Haridwar, Gayaji or Badrinath dham but these poojas can bless the native with their good results even if they are performed in the nearby temple of your town and the most important thing for these poojas to be effective is the procedure or vidhi of these poojas. The vidhi or procedure for most of these Vedic poojas is similar with some changes like the Mantra which is chanted during a pooja, the day of start and completion of a pooja, Havan samagri to be used during the completion day, things to be donated on the day of completion of a pooja and some other things may be different in case of different poojas. In today's article we will discuss the procedure for conducting a Vedic Shri Santan Gopal Puja in order to get specific good results from this pooja and from Lord Krishna.
Shri Santan Gopal Pooja is performed with a specific count of chant or jaap of Shri Santan Gopal Mantra which is the mantra of Lord Krishna and this mantra connects the native to Lord Krishna. Shri Santan Gopal Puja is generally performed with the wish of a capable and good son who is prayed to have good qualities of Lord Shri Krishna. Vedic Jyotish recommends Shri Santaan Gopal Pooja to the couples who want to have a Son and who are not capable of producing a Son for one reason or the other. Shri Santan Gopal Puja is generally started on a Thursday or Sunday and it is generally completed on the following Thursday or Sunday where the day of start of a Shri Santan Gopal Pooja can sometimes change depending upon the time which is required by the Pandits doing this pooja to complete the chant of Shri Santan Gopal Mantra. Generally the Pandits are able to complete this chant or Jaap of Shri Santan Gopal Mantra in 7 days and hence this pooja is generally started on a Thursday or Sunday and it is completed on the following Thursday or Sunday and all the necessary steps for this pooja are conducted during this time. Shri Santan Gopal Puja vidhi or procedure may include many different steps at many stages and it is not possible to mention all of these steps here but we will cover most of the important steps for this pooja.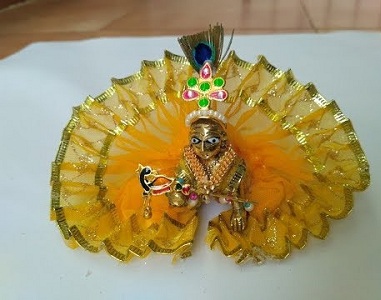 janmashtami 2020 date- This time in Punjab, Tuesday, 11 August Janmashtami will be celebrated.
Just like his devotees are very much loved by Bhagwan Krishna, so too are Lord Krishna very dear to the devotees. Devotees will decorate temples and worship on Janmaashmi. Devotees of Laddu Gopal will decorate the Murti of God in the house. bal gopal dress is so beautiful. There is special enthusiasm among devotees on Krishna Janmashtami. Devotees worship other gods and goddesses in their homes, but on this day they worship the laddu gopal child form the of Lord Krishna.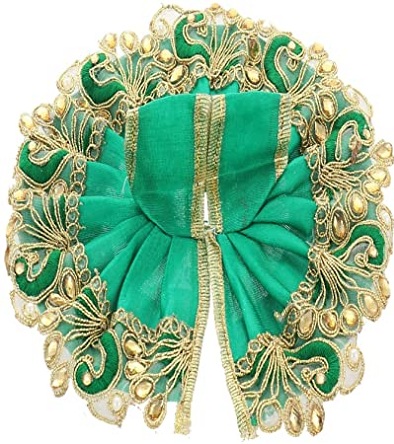 The child form of Bhagavaan is called Laddu Gopal. Just as a child is bathed, dressed, Gopal ji is served. The worship of Laddu Gopal brings children. Worship of Laddu Gopal removes all the problems of the house and fulfills the wishes of the devotees. Every wish is fulfilled by the delight of Laddu Gopal. Laddus are hungry for the Gopal bhava.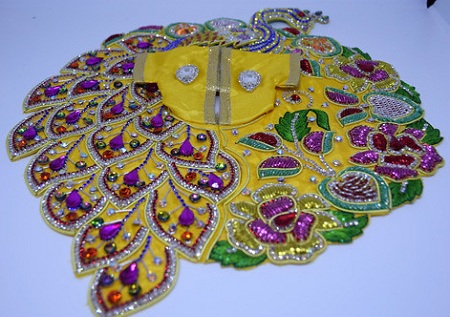 bal gopal dress online- If you want to buy clothes, hammock, flute, crown, peacock feather bal gopal dress, peacock feather (peacock feather) etc. for bal gopal ji, only you order all the goods will be delivered to your house. Bhrigu Shastri ji makes bal gopal dress for the last 30 years and supplies at wholesale rates worldwide. Krishna is a symbol of love. Every creature loves Kanha.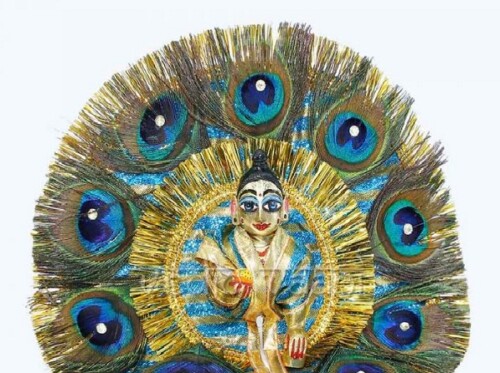 Peacock winged Krishna dress – Lord Krishna's maha shingaar is very beautiful in peacock shaped dress. The clothes of God are made from pure silk cloth. In this, full care is taken of purity. Peacock shaped dress looks very cute. Kanha looks amazing in this.
With Thakur ji, Laddu will serve Gopal, you will feel, you are also a peacock and are dancing with Kanha in Raslila. The peacock pattern is decorated with velvet fabric. The zari turban is also very beautiful. The crown and all the dress are amazing handwork. The garland around the neck of God is made from real pieces. This is Malawith real gems. Bansuri caught in the hands of Gopal ji is also very beautiful.
You order all the items from us and "make up" the dress of Laddu Gopal. There are swing, bal gopal dress, flute, garland, zari turban etc. in this whole set. You can also order different colors of dress for the whole month. The service is available all over India, America, England, Germany, Italy, Australia, North America, Canada, New Zealand etc.
संतान प्राप्ति के लिए करें बाल गोपाल या लड्डू गोपाल पूजा