FOREIGN TRAVEL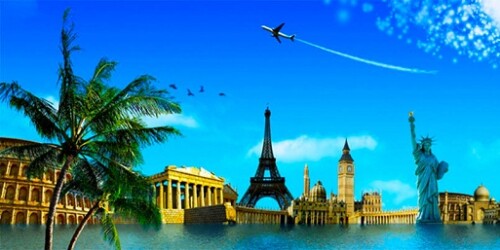 Want to travel foreign? When will the foreign trip happen?, will there be any foreign travel yoga in my horoscope?, will I be able to settle abroad?, will I be able to go abroad on study base?, what should I do to settle abroad?, will I get married abroad or not? , Canada, America or Australia, which country should I go to etc. Questions are coming in your mind, then you do not have to worry. Our astrologer will answer your questions by looking at your horoscope. He will tell you easy ways by which you will settle abroad. Traveling abroad will be easy. You will settle abroad. Foreign Travel, When will i go to Abroad Astrology?.
 When will i go to Abroad Astrology?- In present time everyone has at least one dream to travel foreign land but questions come in mind will I also go if yes than why and which purpose/ reason to go foreign? There are many reasons like for pursuing business, Education, service, permanent settlement, tourism or pilgrimage journey, diplomatic, government assignment, marriage with foreigner, etc. Planetary combination in your horoscope can be found out through analysis of your personnel horoscope only. Your horoscope is able to find out that you can go there or not if yes than which purpose you will go your chart can give indication.
Houses for Foreign travel or settlement-foreign travel astrology calculator
As the classical text and commentary mention a few scattered planetary combinations in this respect, the area need to be looked into to meet the new dimensions. According to Astrology, planetary combinations for travel abroad is studied from 3th, 4th, 7th, 8th, 9th or 12th houses of the horoscope. 12th house signifies foreign house. 3rd house is short travelling house and 12th from 4th house. 4rth being the house of home in birth place.7th house is house of journey, and foreign settlement. 8th the house of change, 9th is the house of long journey and fate, 10th house of career or profession, 12th house is foreign land house.
Promise and timing of travelling abroad
If the signifies house are connected to each other like 4rth lord (home) and 12th lord (foreign house) with 10th lord (career, profession) it means the native will travel abroad for carrier and permanent settlement there. If 5th, 9th and 12th house are connected each other than native will go abroad for education or lecture. When the main period or sub period of planets owning or occupying these houses or there is connection of Dashas Lord with above said signifying house there may become foreign tours. Even the transit of Saturn, Jupiter and Rah from these houses facilitates foreign tours. Double go-char of Saturn and Jupiter on foreign house will give auspicious result.
Third, ninth and 12th houses are tested for short, long or foreign trips. The position of the planets lord of these Bhawa is checked. Ketu, Venus, Moon, the causative planets of travel, are also considered.
1. If the lord of Ascendant is in the 12th house, he has to live abroad or build a house abroad.
2. If the lord planet of the lagna, the lord planet of the ninth house and the lord planet of the third house is in the outer house, then one has to live abroad.
3 Lord of Ascendant, lord of 3rd house, lord of ninth and 12th, even if lord of 12th, 2nd, 3rd or 9th house there are many trips and trips abroad.
4. When Saturn, Ketu, Rahu are in the fourth and eighth house then there are foreign trips. By checking Swami planets in the third house, information about yatras is also obtained.
If the lower planets are situated in the third house or the planet is the lord of the house, then –
If the Sun is situated in the third house, there should be few trips in life, if it is related to government work and profit. Fear of loss from pride and arrogance.
Moon – fond of traveling, have many trips and profitable overseas trips. During the yatra, people get mixed, support and benefits.
Mangal- Yatra may cause loss, fear of injury, injury, accident, etc. Plan first and then leave the journey.
Guru- travel more, travel abroad, officials in travel, reconciliation with people in high positions.
If Mercury is in the third house of the native, he has to travel. He also finds work in which he keeps roaming around the country and abroad.
Venus – more travel will be done by road, there will be benefit from travel. During the yatras, you will perform songs and music programs. You will get respect.
Shani – There will be a possibility of travel, obstacles in the journey, losses and losses. There will be hurdles and delays in the journey, the work of traveling abroad will stop, and the efforts will be made only by repeated attempts.
Rahu- more  trouble, fear of loss in travel, fear of traveling to hospital and jail if 1-5-7-8-11.
Ketu: The journey will be very, will be traveling abroad. There will be movement in the legs. You will also get work in which you will have to walk.
When will i travel Canada/Australia predict free
Rahu and Ketu are not lord planets of any zodiac. They give fruits according to the amount in which they are present. Rahu takes the causative element of the planet with which it reaches the summit. As with Venus, it greatly increases the causative element of Venus, the Venus indicative events. Venus, love, wife, householder is the happiness factor. By being with Rahu, it will increase so much that the person will become luxuriant. Will build relationships with women other than his wife. Will spend money on luxury. Ketu is the main factor in vertigo.
विदेश यात्रा कब होगी, कैसी रहेगी?
If Ketu is with Venus, Chandra, Guru or the lord planets of the third, ninth and outer houses then the person travels, does not stay in one place for long. Short journeys, work related trips, foreign travel, job transfer etc. Ketu should also be considered and the results related to travel.
If the planets traveling with Ketu or Ketu alone are in these expressions, then the result of the journey should be as follows-
Common planets of Lagna are Mars, Sun is high and Saturn is low. Ketu masks the Sun. Ketu does not travel in the lagna, even if it travels, it is harmful. Went abroad then comes back soon.
Ketu in the second house – Yatra, travel abroad, progress from travel.
Ketu in third house – will travel abroad, will stay away from family, will stay in foreign countries.  Infinity World wide visa consultant Doha, Qatar
Ketu in the fourth house – Travels will be less, there will be longing to stay at home, there will be distance from mother in life.
Ketu in the Fifth House – There will be yatras but only in your city, village and country.
Ketu in the sixth house – a lot of effort will have to be made for traveling abroad, there will be many obstacles in the work.
Ketu in seventh house – The person keeps on traveling throughout his life.
Ketu in the eighth house – In the condition of illness, the rounds of the hospital continue. Trips take place against the will.
Ketu is in the 9th house – traveling abroad, traveling is beneficial. There are trips to religious places.
Ketu in tenth house – There is loss in travel. Trips are rare. Transfers quickly and continue to rotate in jobs.
Ketu in the eleventh house – When the wishes are fulfilled, there are obstacles. The journey stops once the itinerary is formed.
Ketu is in the 12th house – traveling abroad, stay in foreign countries and progress.
Will I be able to go abroad Astrology predition?, Will I get a chance to go abroad astrology?, Will I settle abroad 2021 astrology?, Will I go to foreign country astrology by date of birth?, whether there are yogas for going abroad in my horoscope?, I can go to Canada to study?, I can go to Australia to study?,  Will I get Canada's PR or Visa?, what are the ways to go abroad?, how can I go abroad?, etc. If you have questions, then we will tell you how many chances of going abroad in your horoscope, will you be successful by going abroad or not, you are in Canada How will you settle etc. According to astrology, what measures, remedies will you have to take according to astrology so that your work gets done, how many yogas are being made in 2021, 2022, 2024 and 2025 for going abroad. Seeing the Moon in the zodiac alone does not make complete yoga for going abroad, for this, the position of other planets, Mahadasha, Shani Sade Sati etc. should also be discussed in detail. We will tell according to the zodiac signs that how many chances are there to go abroad in 2021.
Aries – For the people of Aries Moon sign, foreign travel is being made in 2021. You can travel abroad in December. Those whose file is attached in September 2021 can go abroad in 2022 also. Due to Corona, there may be delay in the processing of the file, so there is no need to worry.
Taurus- This year i.e. in 2021, foreign travel will be very beneficial for you. Will take up new projects and complete them on time. Job opportunities abroad will be fulfilled. Those who are making a program to get confirmed by getting married abroad will also get success.
Gemini- Small but important foreign trips are being made during the Gemini Moon. Yoga will prevail in 2021-2022. Those who are dreaming of studying abroad will also get success. These trips will bring success in 2021 and 2022.
Cancer- Will go for a holiday abroad and have fun. The time from September 2021 to 2022 is very good for traveling abroad. If you are a film hero or heroine, then you will get good offers to make films abroad. Your health may deteriorate during these trips, so take full care of your health.
Leo- There are good chances of completing new projects of business, getting a degree for studies. If you want to settle abroad then you can also take PR with family. If you want to go to Canada, USA or Australia for studies then there is a good chance for you. Try for visa your file will be passed. There will be good opportunities to travel abroad during this year.
Virgo-Virgo moon 2021-2022. These opportunities should not be let out of hand. Although there are not many good opportunities for foreign travel for the people of these zodiac, yet they can try for short trips. In 2022, Virgo people will get more opportunities. You can visit Canada, Australia and England with your family members.
Libra- Libra moon, there are strong chances of traveling in the last months of this year for the people of this zodiac. Chances of file filing abroad are high. Chances of starting business on foreign soil are high. There may be problems in foreign travel for students but they will be able to fulfill their purpose.
Scorpio – Scorpio moon, during this time there are not very good opportunities for you to travel abroad. Make complete arrangements before going abroad. Get your health checked up and then go for foreign travel. Big businessmen can go abroad to take rest from their work or for holidays and after that they can come back home and complete their tasks. There may be trouble for the students. He should try to go abroad in 2022.
Sagittarius- Sagittarius moon, if you are thinking of going abroad, then get ready. There are chances of foreign travel for students, families and children. Success will kiss your feet while traveling abroad, this is a very good time to file a visa. You can prepare for a foreign trip with family. Students who have filed visa in the last months of 2021, they should wait for next year 2022, they will go abroad as flights may be delayed due to Corona.
Capricorn- Capricorn moon, the natives of the zodiac will be permanently settled abroad. You will also build your house and business abroad. During this time you will take big decisions in your life, due to which you will get success in traveling abroad. By marrying abroad or even on the basis of student visa, you will settle down and start your new life.
Aquarius – If you have made preparations to go abroad, then once again check your belongings and documents. Don't leave anything behind as it may happen that something important may be left behind and you may face problems along the way. There are strong chances of returning home from a foreign trip. Those who want to come back to India from abroad will also be able to come and complete their work. Foreign trips done in 2021 will be beneficial for you.
Pisces- Pisces moon, in this 2021-2022 you will travel abroad and these trips will be completely profitable. Students of this amount will get visa and those who are applying for PR will also get success. There is also a good chance for those who go abroad after getting married. Those applying for PR abroad will get PR easily. Foreign travel will be done smoothly till December.
Will I go abroad in 2021 -2022? – To answer this question, send us your date of birth, time and place. We will check your horoscope. Will tell you when you will be able to go abroad. What measures do you need to take to go abroad.
Will I go to foreign country astrology? – After looking at your horoscope, you will know whether you will be able to go abroad or not. How many chances are you going abroad After checking about the planets in the horoscope, you will be given complete information about going abroad.
Will I go abroad based on date of birth? – Please send us your details. We will tell you when you will travel abroad after looking at your horoscope. Whether this journey will be successful or not. Your horoscope will be examined and your travel forecast will be predicted.
When will i go to Canada Astrology?- You want to go to Canada but you don't know whether you will get a visa or not. Even after completing all the formalities to go to Canada, it is not known how many chances "Videsh Yatra ke Yog" are there of getting a visa. The visa file has been put in place and now waiting for the Canada visa to be issued. For this, for Canada Astrology Prediction, you have to tell us your date of birth, place of birth and time of birth, after which your horoscope will be seen and then it will be told how many Yogas for Videsh Yatra are there for your foreign travel. we will tell you Canada Astrology predictions. If the position of the planets is not right then their remedies will be done and worship will also be done so that you will get Canada visa after taking the remedies of astrology.
when will i travel abroad predict free?
when will i go abroad numerology?
foreign settlement yoga calculator?
will i get a job abroad astrology?
will i go abroad in 2022 astrology?
foreign settlement calculator free?
How do I check my foreign settlement in astrology?
Which planet shows foreign settlement?
Which house is responsible for foreign travel?
Which planet is responsible for immigration?
Is there a yoga of foreign travel in my horoscope? kundly main Vides yatra ke yog
The 12th house is seen to see the yoga of foreign travel in the horoscope. By the way, the 12th house is also considered to be the house of trouble or sorrow. This house shows how many yogas are there for traveling abroad. Moon is considered to be the factor of foreign travel. The tenth house shows the livelihood of the person. If the person is in high position or is rich then his chances of traveling abroad become high because if the person is rich, then only he can fulfill the main conditions of visa while traveling abroad. Shani Dev is the God of justice and also provides livelihood. To see the yoga of foreign travel, the 12th house, the position of the moon, the tenth house and the position of Shani Dev are assessed in the horoscope of the native. Apart from this, taking some measures also creates strong chances of traveling abroad. By contacting Bhrigupandit ji, you can get the remedy for foreign travel successful.
How to find the life path (Bhagyank) number?
Birth Date: 29-3-1972
To find the life path number you have to add the whole date of Birth.
2+9+3+1+9+7+2 = 33
Reduce it to single-digit
33 = 3+3= 6.
6 is you Life path number (Bhagyank)
How to find the birth (Mulank) number?
Birth Number is Sum of Your birth date.
Birth Date: 29-3-1972
29 = 2+9 = 11=1+1=2
2 is Birth number (Mulank)
Tags- #astrology #zodiac #horoscope #zodiacsigns #love #tarot #astrologer #virgo #leo #scorpio #aries #astrologymemes #astrologyposts #libra #pisces #cancer #gemini #capricorn #spirituality #sagittarius #aquarius #taurus #numerology #astro #zodiacmemes #horoscopes #astrologia #spiritual #moon #travel #foreigntravel #2021 #sunsign #avroad #foreigndestination #indastro #travelhoroscope2021 #astrology2022
Call us: +91-98726-65620
E-Mail us: info@bhrigupandit.com
Website: http://www.bhrigupandit.com
FB: https://www.facebook.com/astrologer.bhrigu
Pinterest: https://in.pinterest.com/bhrigupandit588/
Twitter: https://twitter.com/bhrigupandit588